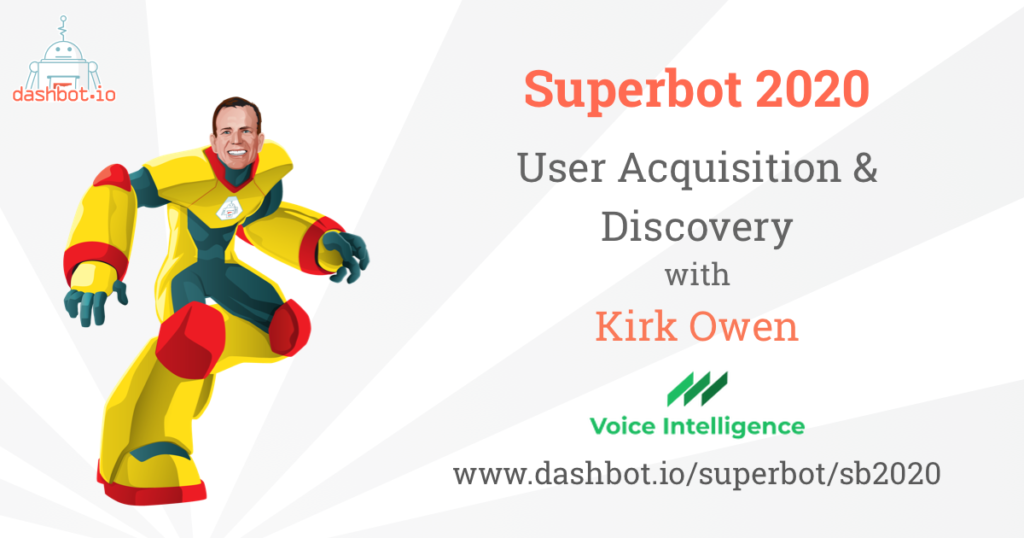 SuperBot 2020 Featuring Kirk Owen
Kirk is a senior media technology executive that has worked across conversational AI, gaming, TV and online education to develop and sell engaging and innovative software products. Prior to founding his own conversational AI consultancy, Voice Intelligence, Kirk was VP of Business Development and Production at XAPPmedia and a senior business development manager with Amazon Alexa. While on the Alexa team, Kirk worked with developers to bring gaming, finance and media voice apps to market and drive their discovery.
During his 2 ½ years working on conversational AI, Kirk has had extensive experience in user acquisition and discovery. On the XAPP team, he worked with the CTO to created XAPP's first skill that used the CanFulfillIntent request in order to drive greater discovery of the National Association of Broadcasters "Rescan My TV" program. While on the Alexa third party business development team, Kirk worked with app developers and the Alexa marketing team to drive discovery of the skills and user acquisition. Areas he worked in included weekly email updates, PR, specialized placement on the Alexa product and skill promotion and product launches.
Meet Kirk at Superbot 2020, the Premier Chatbot and Voice Assistant Conference, March 31st in San Francisco